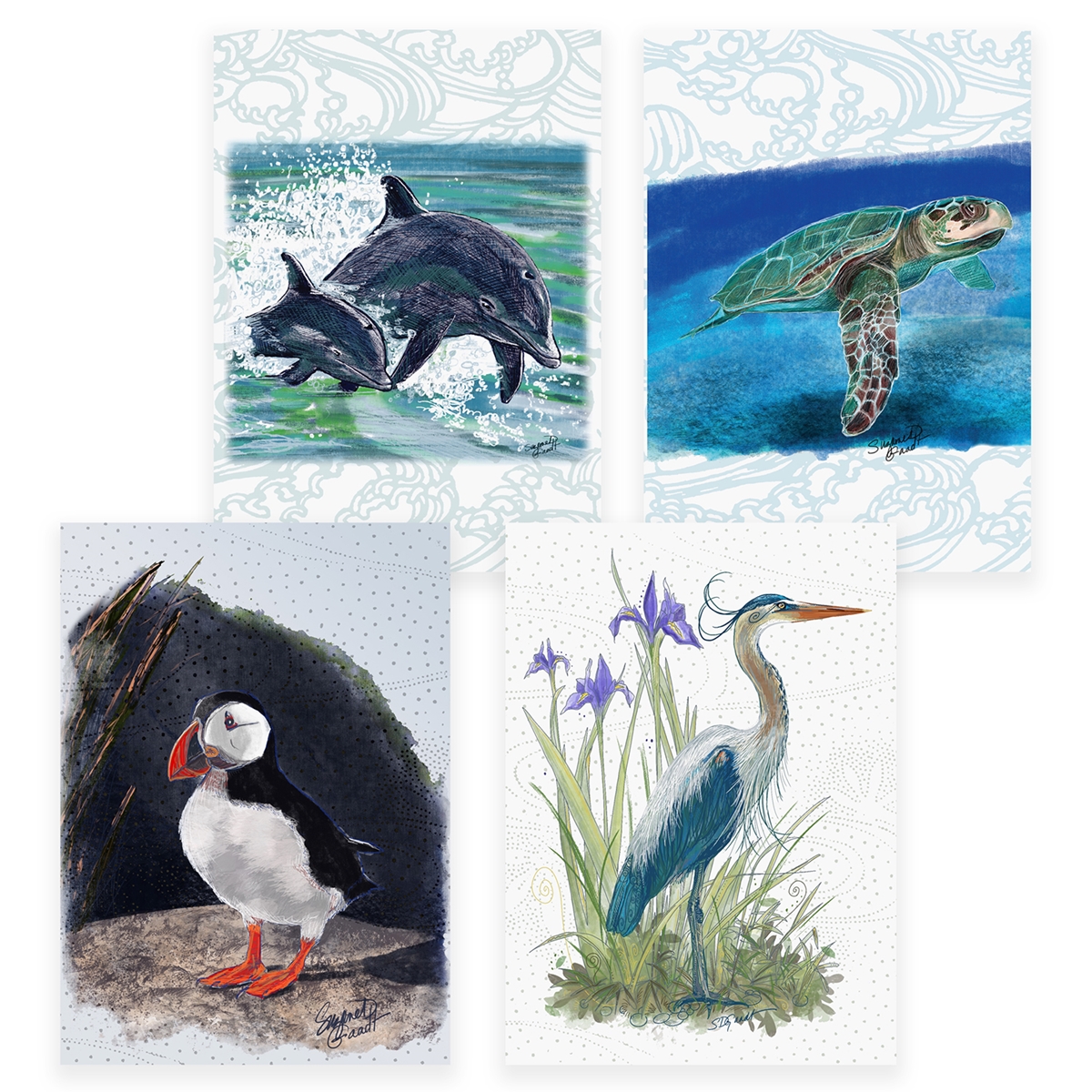 drag to zoom
Wildlife Assortment Card Set
Wildlife Assortment - Set of 4 (1 card of each design)
All greeting cards are blank inside and come with envelopes. Cards measure 5"x7".
Suzanne Gaadt's colorful designs combine a positive message with unique artwork. Each item is proudly produced in the USA using sustainable practices, including FSC-certified recycled paper, soy-based inks, and low-emission, alternative energy sources.
This series features art in watercolor and mixed media. These cards are perfect for all occasions.
Bottle Nose Dolphins: Bottle Nose Dolphins are found in tropical and temperate waters around the world. They represent harmony and peace, inner strength and protection. Dolphins like our pair, are often seen in groups and can symbolize teamwork, cooperation and courtesy.
Green Sea Turtle: Because of their long lifespan, sea turtles often symbolize patience, wisdom, and endurance. Here our turtle floats calmly in turquoise waters.
Atlantic Puffin: Nicknamed 'sea parrots', puffins spend much of their life at sea, returning to land during spring and summer to breed. Like this Atlantic Puffin, they nest on rocky islands and sea cliffs with short vegetation. They fly at great speed, flapping their wings up to 400 times per minute.
Great Blue Heron: The Blue Heron brings messages of self-determination and self-reliance. They represent an ability to progress and evolve. The long thin legs of the heron reflect that an individual who doesn't need great massive pillars to remain stable, but stands strong on one's own. Here the great blue heron is among wild Iris versicolor in wetlands.