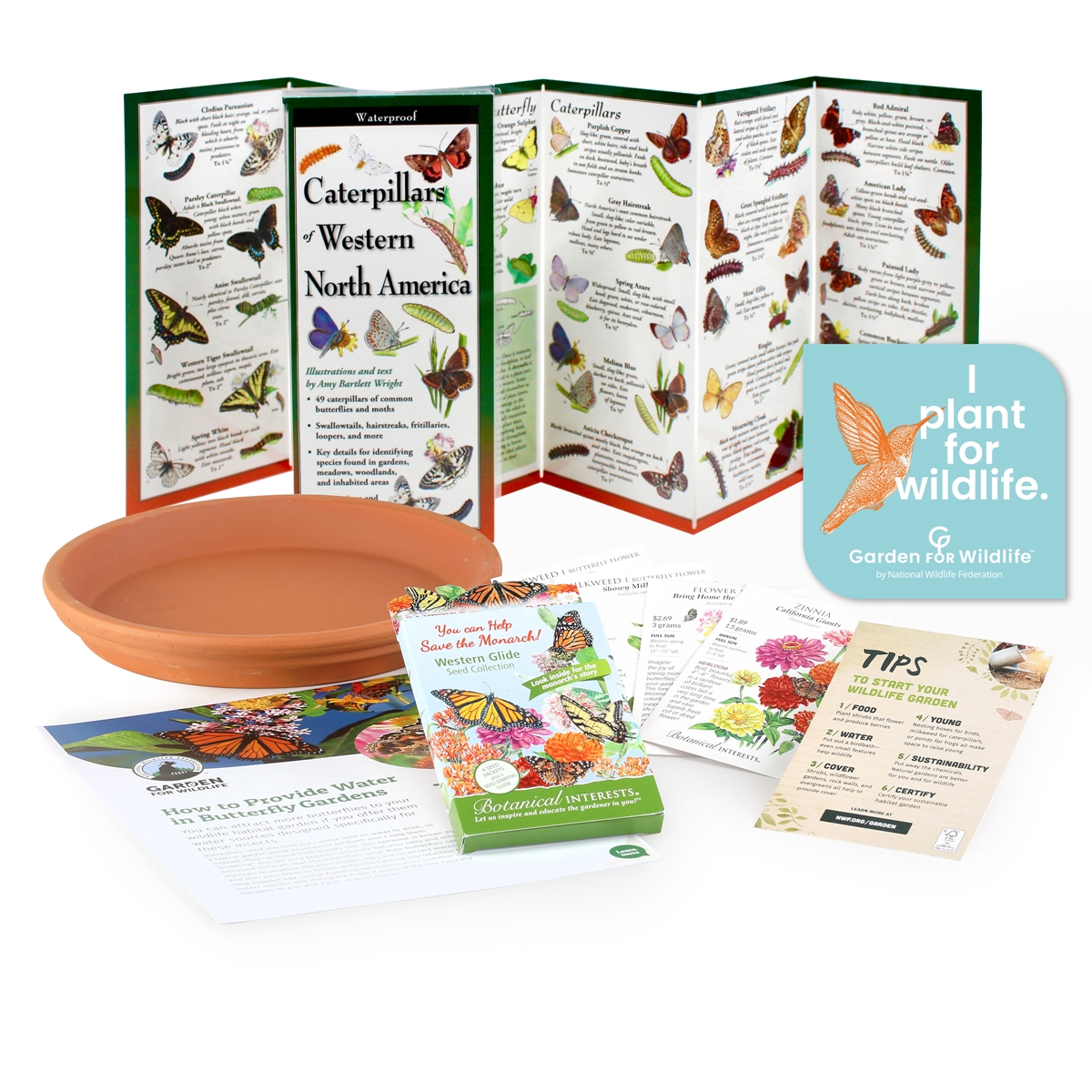 drag to zoom
Western Glide Butterfly Kit
Monarch butterfly populations have declined by 90%. This kit will help you/your family start a garden with the right plants and a water source for monarchs to thrive. Choose the regional option for the native milkweed for your state. Milkweed is the only plant monarchs can lay their eggs and their caterpillars can feed on. Bonus, a beautiful RR drawing book is included!
Kit contains:
Western Glide Butterfly Seed Collection - The collection provides seed for a 100 square foot garden. It includes two milkweed varieties (Asclepias tuberosa and Asclepias speciosa) provide food and habitat for the Monarch caterpillars, and 2 other seed varieties of nectar providing flowers. Western Regional Collection is intended for the following states: AK, AZ, CA, HI, ID, MT, NV, OR, TX, UT, WA, WY.
Terra Cotta Saucer – 10" shallow saucer to create a puddling dish for butterflies.
How to Provide Water in Butterfly Gardens – Tip sheet provides ways to create and maintain butterfly watering areas. By creating a butterfly-friendly water source in your garden you'll attract more butterflies, bees and other pollinators.
Create a Sustainable Garden that Helps Wildlife – Tip card provides way to create a natural garden with native plants by providing essential elements of wildlife habitat.
Ranger Rick's Wildlife Around Us Field Guide & Drawing Book – This 80-page soft cover book will help anyone learn to identify 26 different species and draw them in a naturalist's notebook with fun facts, colorful photos, and step-by-step drawings. Ages 7-10 Years.
Warning: Choking Hazard - May contain small parts, not for children under 3 years.