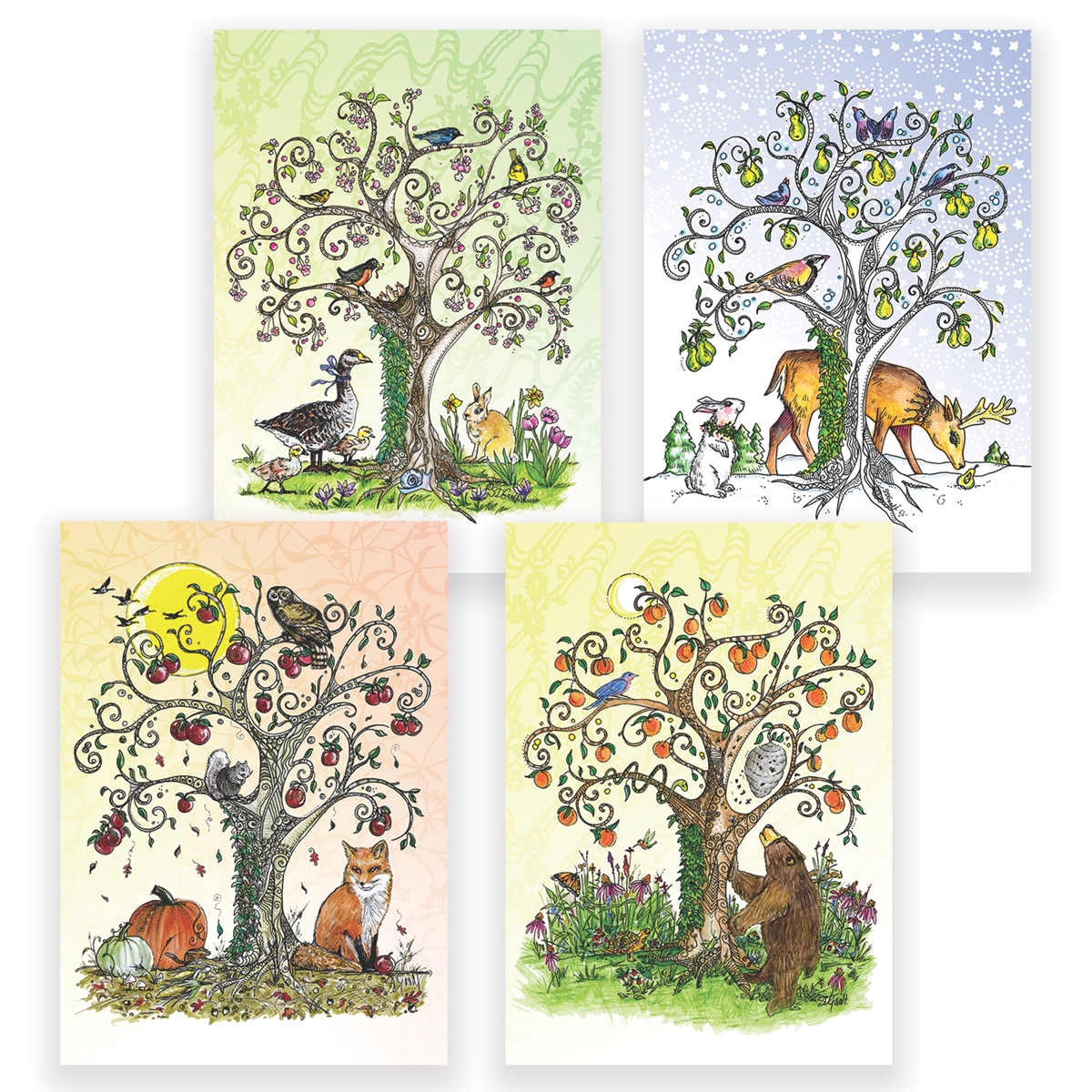 drag to zoom
Tree of Life Cards - Set of 4 (1 card of each design)
All greeting cards are blank inside and come with envelopes. Cards measure 5"x7".
Suzanne Gaadt's colorful designs combine a positive message with unique artwork. Each item is proudly produced in the USA using sustainable practices, including FSC-certified recycled paper, soy-based inks, and low-emission, alternative energy sources.

TREE OF LIFE Series features a central fruit-bearing tree that is home to a community of various animals in each of the four seasons.
Winter with Deer: The Winter Tree of Life is full of ripe pears with a partridge and four calling birds. A majestic deer feeds on fallen fruit. Pine trees, mistletoe, holly, and ivy dot the scene, along with a white winter hare.
Spring with Goose: The Spring Tree of Life has cherry blossoms and new fruit. There is a mother goose with goslings. A perky rabbit peeks out from spring flowers. A variety of birds sing in the branches, along with a red-breasted robin who feeds her young. Can you find the snail?
Summer with Bear: The Summer Tree of Life is laden with ripe peaches. There is a bluebird, snake, hummingbird, and monarch butterfly. A young bear studies a buzzing hive. Can you find the painted box turtle and grasshopper?
Autumn with Fox: The Autumn Tree of Life is an apple tree. A barred owl perches on a high branch while a grey squirrel gets ready for winter. A red fox and chipmunk sit among fallen leaves, acorns, pumpkins and mushrooms. Canadian geese fly south.