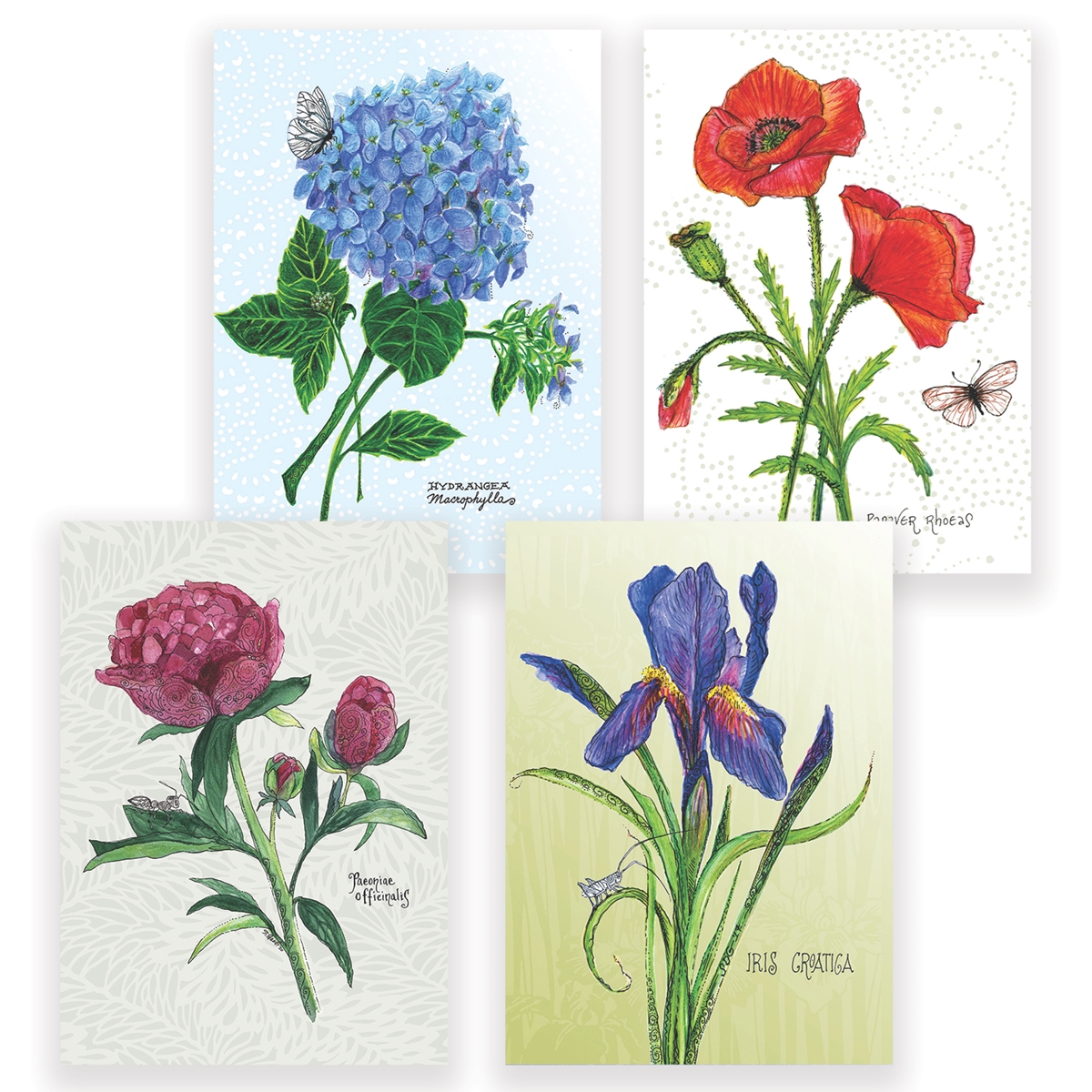 drag to zoom
Botanical Assortment Card Set
Botanical Assortment - Set of 4 (1 card of each design)
All greeting cards are blank inside and come with envelopes. Cards measure 5"x7".
Suzanne Gaadt's colorful designs combine a positive message with unique artwork. Each item is proudly produced in the USA using sustainable practices, including FSC-certified recycled paper, soy-based inks, and low-emission, alternative energy sources.
BOTANICAL FLORALS with POLLINATORS Series features art in watercolor and mixed media of a lush flower in various states of bloom with a favorite pollinator and the plant's Latin name. These cards are perfect for all occasions.
Hydrangea, hydrangea macrophylla: Commonly called Big Leaf Hydrangea, this deciduous shrub has large heads of blue flowers. It is symbolic of grateful understanding. Shown here with a butterfly.
Poppy, papaver rhoeas: The Common Poppy is a bright-red flowering, annual herbaceous plant often seen in farm fields. Used to commemorate WWI, it is also a symbol of resilience and hope for a better tomorrow. Shown here with a moth.
Peony, paeonia officinalis: A common Garden Peony, this herbaceous perennial has deep pink flowers. Its meanings include romance, prosperity, good fortune, a happy marriage, riches, honor and compassion. Shown here with an ant.
Iris, iris croatica: The Bearded Iris with a showy violet bloom can be found growing wild in oak forests or cultivated in gardens. It is often used as a symbol of wisdom, hope, trust, and valor. Shown here with a cricket.