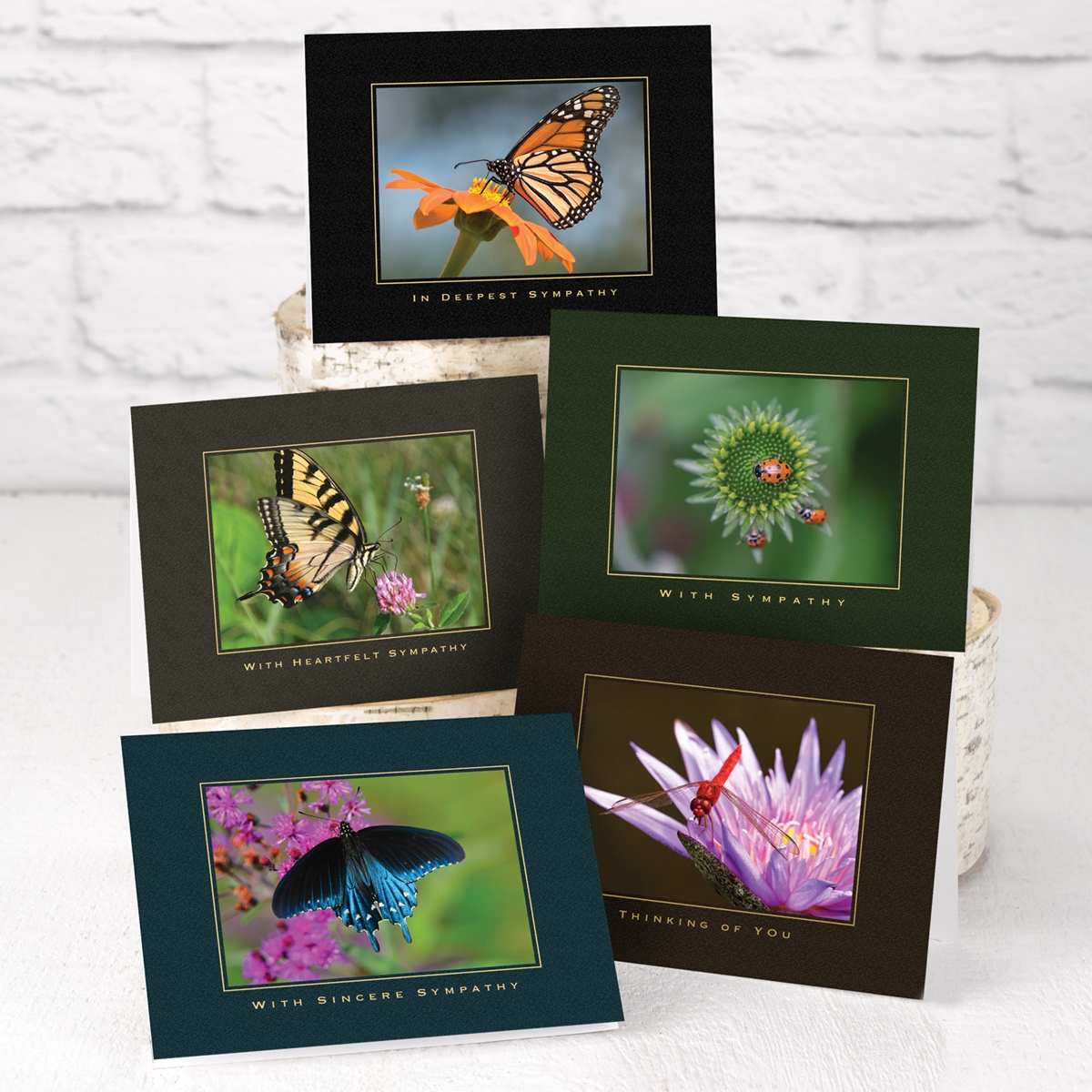 drag to zoom
Winged Whimsy Sympathy Assortment
Express your heartfelt sentiments with images of nature. This assorted card set prints with verses inside, as listed. Made in the USA of 100% recycled paper. Cards are versed on the inside in black ink. Made in the USA. Exclusive.
Images are courtesy of the National Wildlife Photo Contest. Photo Credits: Monarch by Mario Edini; Swallowtail Butterfly by Thomas J. Drolsum; Ladybugs by A. J. Collette; Pipevine Swallowtail by David D.Sloas M.D.; Red Skimmer Dragonfly on Water Lily by Pam G. Winegar.
Your choice of two sizes
Mini Size: 5 1/2" x 4 1/8" (folded) - $19.99
Full Size: 8 1/4" x 5 3/8" (folded) - $21.99
4 each of 5 designs.
20 cards and envelopes.
Coordinating Winged Whimsy envelope seals are sold separately.
Versed inside with coordinating sentiments
Card Verses:
Monarch: Heartfelt condolences and kindest thoughts in our time of sorrow.

Swallowtail Butterfly: Deepest sympathy to you at this time of sorrow.

Ladybugs: Extending sincere sympathy at this time of sorrow.

Pipevine Swallowtail: Our thoughts are with you at this time of sorrow.

Dragonfly on Water Lily: May you find peace, comfort and hope at this difficult time.